D&D Concerti
D&D Concerti was born in 2004, thanks to the stimulus of numerous experiences stored up by the firm's founders. Its range is wide and open to any kind of prompt which is able to lead to a project.
D&D Concerti develops ideas and locates the proper tools in order to give them concreteness.
With D&D Concerti, ideas become accomplished, addressed projects, which are 'translated' into various activities.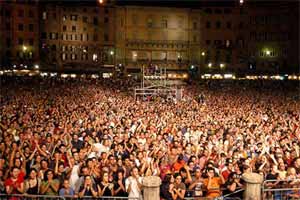 Foto Kohl
Next Concerts
PFM canta De André Anniversary - 29-10-2021 - Ore: 21.00
PADOVA - Gran Teatro Geox
view details»
PFM canta De André Anniversary - 30-10-2021 - Ore: 21.00
BRESCIA - Gran Teatro Morato
view details»
PFM canta De André Anniversary - 19-11-2021 - Ore: 21.00
MILANO - Teatro Dal Verme
view details»
PFM canta De André - 31-12-2021 - Ore: 22.00
ROMA Parco della Musica Sala Santa Cecilia
view details»